For the state of Washington, we've tracked 15 deaths in which marijuana was a direct causal factor, since marijuana possession became legal.  In 3 more deaths,  it's likely that pot was a contributing cause.  Here's the tally beginning December, 5, 2012:
3 teens killed in crash by student driver high on marijuana                         5 pedestrian deaths in Vancouver, WA                                                                   5 deaths in a school shooting including the gunman                                     2 neighbors died after hash oil explosions                                                            2 shooting deaths for robbing a marijuana grow.                                               1 motorcyclist killed by a stoned driver
"THE world is watching Washington's historic experiment with marijuana legalization, and we're screwing it up." claimed a recent editorial in the Seattle Times.   
Crashes, Pedestrian Deaths
Age limits and limits on driving under the influence of marijuana aren't working.  A 17-year old Olympic High School student smoked marijuana the hour before crashing into a tree on January 11, 2015.  The driver survived, but 3 students riding in the car with him died. 
On Halloween in Vancouver, Washington, a 47-year man who drove on the sidewalk while stoned hit 7-year old Cadence Boyer.  She died two days later, while the victim's mother, her 6-year old friend and her mother's friend sustained critical injuries.
An investigation into the most recent pedestrian death in Vancouver is pending.  It's disconcerting that five pedestrian deaths have occurred in this small city of 160,000 residents since marijuana possession became legal on December 5, 2012.  The first pedestrian death was on December 12, 2012.  The driver had smoked "a bowl of marijuana."   The details surrounding the deaths of two women who were thrown 35 and 66 feet in January, 2014, is a little hazier, because the driver fled the scene and was not found until many days later.  Why aren't Washington residents more alarmed?
Though not conclusive yet, a fatal accident last week in Redmond would suggest a driver high on both alcohol and marijuana.
If trends continue, "in five or six years non-alcohol drugs will overtake alcohol to become the most common substance involved in deaths related to impaired driving," according to a recent report.  Before legalization, Washington implemented a program which made substantial gains in bringing down  DUI-alcohol deaths, but it's not clear how much they are tracking deaths caused by marijuana-impaired drivers.
Before stores for recreational marijuana opened on July 7, 2014, Washington mounted a campaign, "Drive High and Get a DUI."  Marijuana possession was legal for 19 months before the stores opened, and it was during this period that a motorcyclist was killed by a stoned driver in Bellevue.   The driver, who showed his medical marijuana card, had 9.8 ng/ml marijuana in his blood — 2x the legal limit — three hours after the collision.  Of course, there were fatalities caused by drivers high on weed before legalization.
School Shootings, Other HS Issues
Efforts to normalize the use of marijuana for adults influences teens.
In one of the most recent school shootings in Marysville, a suburb north of Seattle, Jaylen Fryberg invited his ex-girlfriend, his cousins and other friends to eat lunch with him in the school cafeteria.  He  promptly shot them. The public Twitter feed between 15-year old Fryberg and his former girlfriend revealed that marijuana was a significant part of his life. The popular student was a user who admitted to smoking a lot to deal with the breakup, while his former girlfriend felt it made him dumb, according to the Tweets.   The shooter and four victims died, while one survived.  These families and the community could have avoided much sadness, if he had not been a marijuana user.
Marijuana intrudes into the educational environment.  Although Washington recreational marijuana stores are not allowed to sell edibles, 80 % THC drinks were confiscated in a Seattle school recently.  In September, 2014, students and adults held a party with marijuana at a high school in Tumwater, WA. 
Last June, a 16-year old girl at school in Puyallup brought pot-infused brownies and lemon squares to school and shared them with her classmates. Three unsuspecting students got sick.  When police went to arrest her, they found 100 marijuana plants growing in the home, higher than the legal limit. Police also found that the father had a hash oil extraction lab.
Two Die as BHO Explosions Spike
A new crime associated with the expansion of marijuana is making butane hash oil (BHO), a highly potent form of marijuana made in home labs. Butane hash oil explosions near Seattle have been testing public services to the limits.   One fire in Bellevue required 100 fire fighters and police officers.  The fire destroyed an entire 10-unit apartment building, killed one woman and dislocated all residents.  Two women who jumped from the upper floors of the building and landed on grass sustained several broken bones.  Property damage totaled $1.5 million to the building,and $500,000 to the contents.
Three weeks prior to the explosion, police had investigated two of the three arsonists, who got off by showing medical marijuana cards and telling police that they did not make hash oil.   The Bellevue fire was only the beginning of a trend to follow.
Another death from a BHO fire occurred on the eastern end of the state.  In January 2014, an explosion caused a neighbor to have extreme respiratory problems.  He died two months later.   Spokane is passing laws to make BHO manufacturing illegal, after another BHO fire started in a car which injured a three-year old.
While hash oil explosions are not part of Washington's legal marijuana program, they are bound to happen where there are lax rules. The hash oil blast which occurred in Puyallup, WA, on May 20, 2104, created popping noises and flames, sending butane cans throughout the neighborhood.   Everyone made it out quickly, including the toddler. The video that goes along with the article explains why neighbors are at risk from this dangerous practice.
Calls into Washington's burn centers revealed that the state of Washington does not keep tabs on how many people are there because of the BHO explosions.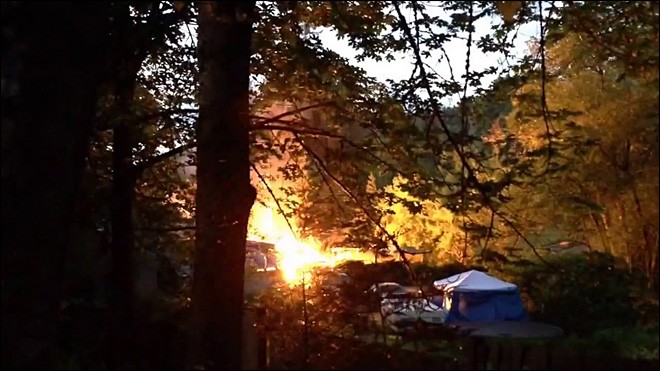 Poisonings and Death Toll from Marijuana
Calls to the Washington Poison Center for marijuana exposures increased to 246 in 2014, up from 158 in 2013.  There were 48 calls involving children ages 12 and under, some of them who had accidentally eaten marijuana edibles.   Around half of the calls last year resulted in hospital visits, with most of the patients being evaluated and released from an emergency room. Ten people were admitted to intensive care units — half of them under 20 years old.
What about crime and shootings?   The day that home marijuana possession became legal in Washington, two hooded intruders were shot to death during a break-in attempt on an indoor growing operation in Puyallup.
How can anyone justify the cost for an increased need of fire and emergency medical services, involving poisonings, car accidents and burn care directly related to marijuana?