For teens and college students, it's a trend to add Xanax to their marijuana.  Xanax is an anti-anxiety medication classified as a benzodiazapine. Some who use Xanax have real anxiety.  Because "medical" marijuana activists advertise marijuana as a treatment for anxiety, some people use marijuana to deal with anxiety.
At first, people may think marijuana solves their anxiety. However, after they begin to use it this way, the anxiety returns and starts to get worse.  Like any drug of abuse, the marijuana which calmed the person initially is needed more frequently and in greater quantities.  At this point, many users begin to think they need Xanax. It's one way that pot users add Xanax to the mix of their drug use.
Marijuana-Xanax high has specific quality
Some youth add Xanax merely for the specific high it creates.
The only child of Nashville Mayor Megan Berry died in Denver on July 29, 2017.  After toxicology reports revealed the cause, she did not hesitate to speak about it.    Max Berry, 22, had been through rehab last summer.  Mayor Berry stated that her son Max, 22, particularly had a problem with Xanax addiction, and had been through rehab last summer. The toxicology report revealed Xanax, marijuana, methadone and hydrocodone. Her courage in speaking out to help others is admirable.
A few weeks later, Chase Bolling, the son of Fox N Friends' host Eric  Bolling died after partying with friends in Colorado.  Another well-known person's son died in a drug- related tragedy, and again it happened in Colorado.  The night that Eric "Chase" Bolling, Jr., died, he had been partying with marijuana, Xanax and cocaine, according to his college friend.
Justin Bondi, a 21-year-old hiker in Colorado who fell 150 feet to his death in 2015, also combined marijuana and Xanax.  The toxicology report revealed this mix, along with cocaine.
"Medical" marijuana not enough for back pain, also needed Xanax and methadone
California "medical" marijuana user Nicolaas Myrtle combined marijuana, Xanax and methadone when he crashed his car in 2012.  His daughters, 3 and 4, were in critical condition afterwards, and one of them was paralyzed from waist down.   He had back pain.
Ericka Crouch used marijuana, Xanax and methamphetamine when she crashed into a train killing her two children, 5-yr-old Adalynn and 4-yr-old Wyatt.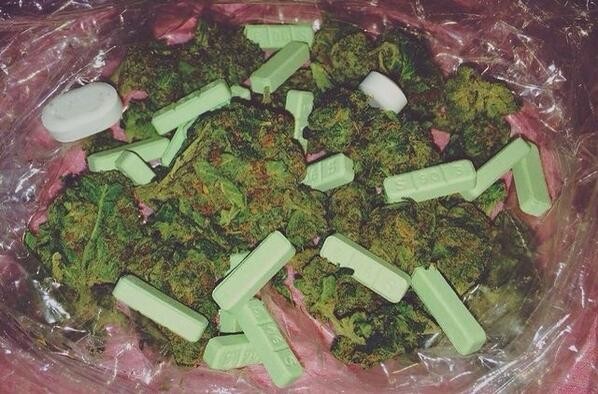 The questions to ask, why so much marijuana and Xanax used together? How much is true addiction and how much is sensation seeking behavior? Regardless of the reasons, marijuana users constantly combine it with other drugs.
Teens mixed marijuana and Xanax in fatal crash  
In a crash that killed three teenagers on a curvy, two-lane road near Conifer, Colorado last May, mixture of Xanax and marijuana was a factor.  The driver, Jake Whitting drove straight off a turn in the road, down an embankment and into a creek, flipping several times.
Jake Whitting, 18, of New York, John Yoder, 19, of Colorado and Aknwumi Ricketts, 16, of Nigeria died.  A fourth student, Marshall Otter of Kansas survived. The four teenagers just finished the school year at St. John's Military Academy in Salina, Kansas, and were heading to a camping trip.
Reports show the driver, Whitting, had 8.5 ng/mL of Delta-9 THC. Whitting, age 18 was the Class of 2016's valedictorian.  High academic success doesn't make anyone immune from exploring the world of drugs.  In fact, the discipline it takes to succeed at a rigorous school can make the desire for escapism even stronger.
The other two teens who died had both THC and Xanax in their blood.  Ricketts was an exchange student from Nigeria and he was going to spend a few weeks as Yoder's house in Colorado.
The best information on the tragic crash comes from a TV report and from from the Denver Post article of September 13, 2017.
A video of Mayor Berry discussing addiction and her son's death is here: